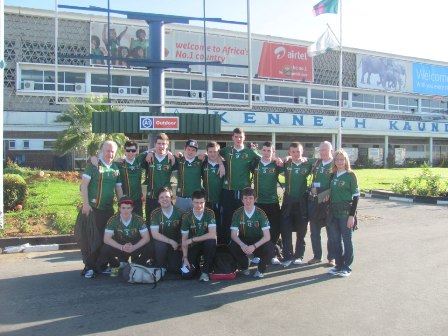 Abbey to return to Livingstone - March 2013
March 2013 marks the 10th anniversary of Abbey CBS Zambia Immersion Project in which a group of students and teachers travel to Zambia where they are 'immersed' in Zambian life for two weeks. While in Zambia, students and teachers will work in schools, help in communities and visit orphanages, hospitals, farms and housing compounds. In a very real way, students and teachers will serve as ambassadors for the school and parish.
The purpose of the Immersion Project is to strengthen relations between the Abbey and the township of Livingstone in Zambia and to raise awareness in a personal way for those that travel to Zambia. While in Zambia, the Immersion team will seek to identify worthwhile initiatives that we can help fund. On returning home, students will provide an integral link for Abbey CBS to Zambia and will deliver presentations on their experience of Zambia to every class in the school as well as a presentation night to the Newry area. Preparation for the Zambia Immersion involves two elements- preparing students and staff for their immersion and fundraising. Preparation for the Immersion takes place every Thursday after school and involves useful information on Zambian culture, history, politics and geography as well as preparation in necessary skills such as teaching. Significant time is also given to looking after their well- being, both in a physical and emotional sense. A great deal of time is also given to fundraising.
Jigs And Reels
Friday, 11th January 2013, promises to be an extravaganza of Irish dance, with a balance of esteemed local Irish dancers and the equally enthusiastic students and teachers, who have been taught from scratch. They are coming together to raise money for the Abbey's Zambian Immersion Project in the first ever 'Abbey Jigs and Reels.'

Rehearsals have been taking place on a Monday evenings and throughout the Christmas break, with participants being put through their paces by Helena Hughes. Helena has kindly given us the time and patience to spearhead this event. She has placed a real emphasis on coaching the participants in the basic steps and teaching the routines and dances in line with the event. Peter O'Hagan's two left feet and Stephen Jennings galloping through routines are a far cry from the skip two - threes being executed to perfection by the likes of Peter Reel. Pat O'Neill has added a French flavour to the dancing despite not knowing his right from his left.

Paul McKeever has tried dancing before and now feels that he was indeed, born to dance - the man can't be stopped. Annette Elmore, Orla Hughes and Catriona McGrath, despite being the chatters of the group, are always ready to perform flawlessly. Ryan Hughes and his troop of lads, who have "done it all before", are easing back into the swing of things. They have obviously put long hours into the art of dancing. Brendan Bell is our resident professional, along with Helena he will be leading the group routine. We thank him for giving us his time.

Participant and member of the Immersion group, Andrew McGivern, said: "As part of the Zambia team this year, I have heard from past students about how saddening the experience of Zambia can be. The work we do here, no matter how small or even fun, as it may seem in this case, always has the driving motive for making a difference and providing hope in Zambia. All the money raised will go directly to funding projects out in Zambia.

So that's January 11th 2013, come on down, it's a great chance to support a wonderful cause, see your friends, fellow teachers or family members getting up on stage and breaking the boundaries of what can be called Irish Dancing."

Step aside Flatley, The Abbey's in town!

The Priests

Coming March 2013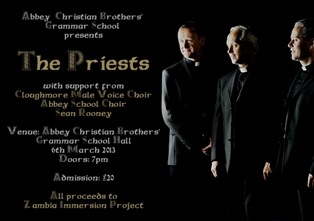 If you would like any further information, please or email us Abbey Zambia Project
Photos