Immersion 2003
Zambia - The Experience Of A Lifetime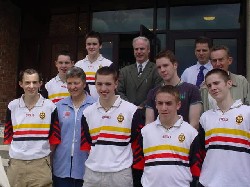 Click on Picture to view larger image.
To celebrate the Bicentennial anniversary of the foundation of the first Christian Brothers' School, seven students and three teachers. from the Abbey Grammar CBS. Newry , embarked on a two week mission to Livingstone, Zambia, in April, 2003. In September 2002, the Abbey called for volunteers from sixth year. With an interview and a long wait, the seven students who were to travel were finally selected. The project was officially launched to the rest of the school in November when a Solidarity Day was held to raise funds. From the outset, the support of the school community and, indeed, the wider Abbey community , was evident.
| | | | | |
| --- | --- | --- | --- | --- |
| Paul & his class | Paul & the Zambezi | Mr Connolly & Gang | St Raphaels Students | Outside St Raphaels |
As part of our preparation, we met every Thursday, after school, to bond together as a group. During those meetings we learned more about Zambia, its culture and people. We linked up with CBS Portlaoise, who had travelled to Livingstone earlier in the year, and this first hand . knowledge proved very beneficial for us as a group. Before we knew it, it was time to depart. On the 5th April we left for Zambia. After a nine and a half hour flight, covering some five thousand miles, we touched down in Lusaka. We were greeted by Brother John McCourt who lives and works there, and then embarked on a three hundred mile journey southwards and eventually arrived in Livingstone, 'home' for the next two weeks. Brother Mick Doyle was our chief contact in Livingstone. We divided up into groups and were based in three locations for work each day: two community schools and a youth training college. The community schools were extremely deprived with all six classes squashed into a small hall and often having no desks or chairs for its students. Yet, we were struck on our first visit by the happiness of the children. During the two weeks we taught the children Maths, English, and assisted in recreation and, to our surprise, we were given full attention! We visited St. Raphael's CBS in Livingstone and noted that the standard of education there was comparable to our own, indeed the motivation of the students is something we could only aspire to. We talked to the students and learned something about their lives.
| | | | | |
| --- | --- | --- | --- | --- |
| Inside Mapenzi School | Joseph at Maramba | Armaghs Fame hits Zambia | Joseph Teaching | Kids at Maramba |
We linked up with some Irish Franciscan Sisters, and accompanied them on their visits to patients in their homes. Some of the sights we were confronted with will never leave us. We saw women and children suffering from the ravages of AIDS and malnutrition. We witnessed, first hand, the nurses who could only provide a few panadol and vitamin tablets to these very sick patients. We visited the hospital in Livingstone and were surprised to find plenty of empty beds. However, we learned that there was little or no medication, indeed the cost of the taxi fare to the hospital was beyond the patients' means.
| | | | | |
| --- | --- | --- | --- | --- |
| Dancers at Mass | Students from Maramba | Mr Maguire & Richard with Elephants | Mr Maguires Class Hard At Work | Mr Maguires Class |
It would be wrong however to assume that it was all doom and gloom; being based in Livingstone gave us the opportunity to visit the Victoria Falls and the local Safari Park. Before we travelled we had seen many pictures of the Falls, but to see it first hand was an entirely different experience. The sunset cruise on the Zambezi was also breathtaking. Throughout the two weeks we were all struck by the friendliness of the local people and we noticed the differences in our cultures. The differing role of women was very evident: it was not uncommon to see a woman walking along the road with a baby on her back, a bucket of water on her head and a bundle of sticks in either hand" The impact of death on the family was something we experienced first hand. We learned that in Livingstone alone there are up to fifteen funerals each day. We could only imagine the emotional and personal heartbreak that this brings to a community .
| | | | | |
| --- | --- | --- | --- | --- |
| Taking it easy | Career as chiefs | Front of the Canyon | Eating the Cake | Prizegiving |
On Good Friday we took the opportunity to visit the local graveyard: the reality of death among the local people was tangible. We also visited the graves of three Irish Christian Brothers and this was a reminder of the cost of this community to missionary work. Initially when we started out friends were sceptical about the nature of the project that is, spending a substantial sum of money to send ten people out to help for two weeks, rather than just sending the money there in an envelope to charity workers. But having been there, we now realise just how complex the whole issue of the Developing World is and how' throwing money at the issue certainly does not solve anything. A prime example of this is . the work of two Italian volunteers we met there the two Giovannis.
| | | | | |
| --- | --- | --- | --- | --- |
| Gio's and Lads | Playing games outside Linda | Mr Maguires Cooking | At Victoria Falls | In front of Victoria Falls |
They have been constructing a Youth Training Centre for woodwork, metal work, tailoring and catering on the outskirts of Livingstone. They could easily raise funds in Italy, hire a team of Italian workers and have the centre built in a few months. Before this trip we would have expected this to be a job well done -a problem solved. But we learned that the centre must be a community project; otherwise those for whom it is built would see it as belonging to rich, white people, rather than themselves. So, the process is more important than the product, in the long term.
| | | | | |
| --- | --- | --- | --- | --- |
| Celebrating a win | Champions | Children of Mapenzi | Christopher with Elephants | Cleaning Wounds |
Images from television and some research were the only things we had to prepare us for our visit. But, now we realise that this was a poor substitute for first-hand experience. As we watched the women carry heavy loads for long journeys and listened to the stories of the students -many of whom were orphans we realised how resilient human nature is and how people can and do adapt to difficult situations. For the amount of sorrow in Zambia there coexists a joyful resignation to what God has granted these people in their lives and they try to make the most of it. Now that we have returned to Newry we are more aware of how lucky and privileged we are to live in Ireland, something most of us take for granted. We have anew perspective on life and realise that money is not a measure of wealth: real wealth is much more about how we live our lives and treat others. We also have a growing sense that money alone will not solve the problems in the Developing World. Only hard work, time, effort and most important of all, a spirit of generosity will alleviate the poverty that we saw in Zambia.
The challenge remains!

Students : Conor Rodgers, Barry McDonough, Christopher Cull, Steven Malone, Richard Gordon, Paul Campbell, Joseph.
Teachers Mr S. Connolly, Mr D. Maguire & Sr. A Lyng

ZAMBIA – A ONCE IN A LIFETIME EXPERIENCE




Abbey pupils have returned home from their incredible journey to Africa telling The Abbey Way that life would never be the same again. Judging by these wonderful images you begin to understand just a little of how they might be feeling. The school trip, organised by Sister Anne, had both a practical and a spiritual dimension and each Abbey student believes that everyone should at some time in their life have the opportunity to be nourished by such a never-to-be-forgotten experience. Below are links to articles detailing the experiences the Zambian Team gained.
| | | | | |
| --- | --- | --- | --- | --- |
| Welcome to Zambia | Elephants | At the Bridge | Blake & Friends | CBS Monument |
| | | | | |
| --- | --- | --- | --- | --- |
| Welcome to Zimbabwe | Teachers at St. Raphaels | Conor working hard | Cooking | Taking a break |
| | | | | |
| --- | --- | --- | --- | --- |
| Sunset | A boat ride | Linda Grade 2 | Mapenzi School | Students from Linda Grade 2 |
| | | | | |
| --- | --- | --- | --- | --- |
| Victoria Falls | Volleyball team | Mr Higgins !!! | Zambezi Sunset | Welcome Home |
If you would like any further information, please email us Abbey Zambia Project
Photos